David R. Bild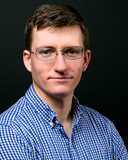 Name
David R. Bild
Contact
david@davidbild.org
PGP Key (Keybase) GitHub
LinkedIn

Location
Chicago, IL 60605
Affiliations
2016-present
CTO
Xaptum, Inc.
2014-2016
Co-founder
Tellur, Inc.
2009‒2014
Ph.D.
University of Michigan, EECS
2003‒2008
B.S and M.S.
Northwestern University, EECS
Biographical Summary
I am currently CTO at Xaptum, where we are pioneering the use of overlay networking technology to drastically simplify the safe deployment of secure Internet of Things (IoT) applications.
Previously, I defended my Ph.D. in 2014 at the University of Michigan working under the guidance of Professor Robert Dick. In 2007 and 2008 respectively, I received a B.S. and an M.S. in Computer Engineering from Northwestern University. I was born and raised in Albuquerque, New Mexico and was fortunate enough to spend the summers of 2005, 2006, and 2007 as an intern at Sandia National Laboratories.
Research Interests
My dissertation research focused on developing communication networks that employ a decentralized architecture to combat censorship and surveillance. This work included
characterization and modeling of human communication patterns to enable optimal design of communication networks;
design and analysis of security and network protocols; and
implementation of our protocols, primarily for the Linux kernel and Android operating system.
My other research has been focused on CAD/VLSI, with some overlap into embedded systems design and synthesis. Specifically, I'm interested in
event-based tracing to characterize and optimize smartphone application, operating system, and hardware performance;
modeling and combating fault processes for ASICs and FPGAs (e.g., NBTI and radiation-induced soft faults); and
thermal modeling and characterization of integrated circuits during design (temperature-aware synthesis), manufacture (temperature-aware test), and deployment (temperature-aware runtime policies).